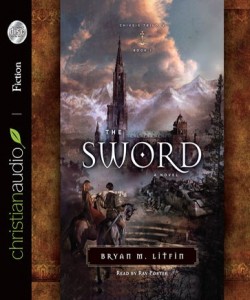 This month's free audiobook download from ChristianAudio.com is The Sword (Chiveis Trilogy, book 1) by Bryan Litfin. I have previously reviewed book 2 of the Chiveis Trilogy, and just received book 3 from Crossway.
The premise of the series is a post-nuclear war holocaust Earth, where Christianity has been almost forgotten, and the Bible's message is mysterious and hard to come by. An unlikely pair of heroes recover the Old and New Testaments and battle the enemies of Christ in a medieval setting. While the books have an overtly Christian message, and explore characters coming to grips with what it means to serve Jesus Christ, the world of Chiveis is both memorable and enthralling. Bryan Litfin seeks to tell a masterful story but at the same time teach a moral lesson — not easy to do, but very rewarding if done well. I can't wait to read the conclusion to the series – but I might have to listen to book 1 first.
For more about the Chiveis Trilogy, visit Chiveis.com.
Christian Audio Special:
♦ Free Audio Download of The Sword (Book 1)
Purchase Links:
♦ The Sword (Book 1): Amazon, CBD, Crossway
♦ The Gift (Book 2): Amazon, CBD, Crossway
♦ The Kingdom (Book 3): Amazon, CBD, Crossway
Deal on all 3 books:
♦ Amazon, CBD, Crossway
(HT: BibleGeekGoneWild.com)
~ Originally posted at Fundamentally Reformed