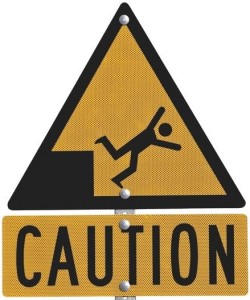 Jack Schaap is not the first high profile pastor or church leader to fall into sin. I remember blogging about the fall of Ted Haggard, former president of the National Association of Evangelicals, back in 2006. Roman Catholics have their fair share of priest-turned-pedophiles, and no church group has the luxury of having leaders with perfect hearts that aren't susceptible to sin.
Independent Fundamental Baptists (IFB), however, are particularly liable to fall into this sin, it would seem. And I would say there are several pitfalls that especially plague IFBs. Many don't see these pitfalls and end up getting used and abused by the system. And so I find the need to speak out and warn people, lovingly of what I consider to be errors in their way of thinking.
These pitfalls can be wide enough to catch people of a variety of stripes, but apply most directly to "old-fashioned" fundamental Baptists. There is a large group of IFB churches that are more or less similar in their susceptibility to the issues I want to discuss. I hope this conversation can focus on the Bible and on what it teaches about these pitfalls. And I do pray that some are helped by this.
The first pitfall I want do discuss is, legalism.
John Piper has defined legalism, as follows:
(1) Treating biblical standards of conduct as regulations to be kept by our own power in order to earn God's favor…

(2) The erecting of specific requirements of conduct beyond the teaching of Scripture and making adherence to them the means by which a person is qualified for full participation in the local family of God, the church; This is where unbiblical exclusivism arises. [Source]
I think this is an excellent definition, but of course not everyone will be happy with it. Some are offended or confused by the use of the term "legalism" by people who critique fundamentalism. I want to elaborate on this further, using something I wrote a while ago. I can't say everyone has a legalistic mentality in a given church–I speak for myself. But certain environments facilitate this mindset.
So why do I use the term "legalism?" Look at Piper's definition a little more closely: "Treating biblical standards of conduct as regulations to be kept by our own power in order to earn God's favor." Piper has many personal rules of conduct that he keeps out of a desire to please God (he doesn't own a TV, he doesn't go to movies very often, he doesn't drink, etc.). He does so, however, from love for God not a sense of rigorous duty. What's important I think is "by our own power." For years I was in a church that taught us to "just do it". If we were really serious about God we would keep these rules and regulations, most of which went way beyond what was spelled out in Scripture. It was hard to toe the line, and we were encouraged to have character and resolve. Yes we were told to depend on the spirit, but the emphasis was on personal effort.
In keeping those rules we felt that we were truly obeying God. And when we saw others who didn't keep those same rules, part of us, deep inside, thought we were better than them. We felt we were in a sense earning status with God. Our group was more serious about God than other groups. Why? Because we did this, and that. The emphasis was on us. And we didn't truly have a perspective of God's grace and a genuine love for all the brothers and sisters we have in Christ.
This is what Piper is arguing against. And while I often bristled against the term "legalism" too. After I came out of the system and thought more objectively, I realized that "legalism" really did fit. The focus was externals. Not that those aren't important, but the very nature of the environment we were in promoted the idea of making sure we look good to others by keeping the community's rules. Since we judged each other on externals so much, and since externals were harped on in the pulpit so often, it became natural to think this way. We were all, to one degree or another, earning favor and status with God. Yes the Gospel was preached but it was presented as a thing to accept mentally and assent to once, and after that you pay God back, in a sense, by keeping His rules. It was not really presented as something you can live by.
What is missing is that in our own strength we are sure to fall. The rules are hard. And when that was acknowledged we were encouraged to vow to do better, to clench our teeth and determine not to give up, to go forward and recommit ourselves to God during the public invitation. To seek accountability and force ourselves to do it. Often manipulative, human-oriented schemes were used to try to belittle those who didn't persevere. It was a method to try to encourage them to keep on keeping on. In all of this a focus on Christ was lost. The Gospel is all about the fact we can't keep God's rules. We need help. And we have a glorious Savior. From the love He's given me, and in light of the glorious grace of God giving me what I do not deserve, I can have a Spirit-wrought desire to please Him. With that motivation, the rules of what I do or don't do, are not burdensome. They don't even really matter. What matters is my love for Jesus and desire to please Him. If I fall, I know I have an advocate, and I am saddened since I displease Him. And I'm again amazed that He picks me up and helps me keep going.
I hope you can see how this "legalism" can be harmful. It can take our focus off of Christ and onto ourselves. And the 2nd kind of legalism points us to our neighbors. We assess whether they are qualified for me to even consider them part of our church. This is doubly harmful because the standards we're measuring them by are not even entirely Biblical. They are more often a particular application of a Biblical principle.
I hope this helps explain where we are coming from. Terms like this are inflammatory I know. There's not much we can do about that. But if you see where our objection is to this kind of thing, maybe it helps you understand why we label it "legalism" and why we are against it.
I'd encourage you to check out C.J. Mahaney's book The Cross-Centered Life, it has an excellent chapter on legalism. For more on the Biblical basis for this, see my series on the Gospel's work in believers.
~ Originally posted at Fundamentally Reformed