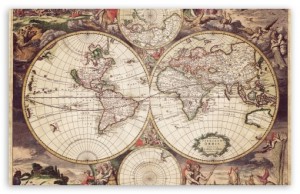 Justin Taylor recently posted a video clip from the 2012 Ligonier Conference. The clip was a portion of a panel discussion on how Christians should understand the age of the earth.
The full discussion on this question, available on video here, starts at 42:09 on the video and lasts through 75:40 (the end). It is mostly R.C. Sproul Sr., Stephen Meyer (a Christian scientist and author who subscribes to Intelligent Design), and Del Tackett (known for Focus on the Family's The Truth Project), although Michael Horton and R.C. Sproul Jr. also make some brief comments.
I appreciated both R.C. Sproul Sr. and Stephen Meyer's emphasis that this debate should be intramural and congenial. Good people can disagree on this issue and still mutually affirm the inerrancy of Scripture and stand against the materialistic drive of this age.
Taylor went on to quote from and point us to a report from the 2000 PCA report on the question of differing interpretations of the days of Creation. That report carefully defines terms, explains most of the various positions which aim to remain true to the text, and evaluates each view helpfully. A historical review of the position of the Church on the days of creation is also provided. The PCA concludes that this issue shouldn't divide their church and aims to show that people holding to the various views can have unity in standing for Biblical supernaturalism when it comes to creation, and against a naturalistic worldview. I recommend you check out that paper.
In recent years, this debate has become more and more caustic. And some of the participants have moved farther and farther afield from the Bible's account of creation. Peter Enns has gone so far as to deny the existence of Adam, and the historicity of the Exodus and much, much more! That being said, although a slippery slope does exist, the Church has always had varying positions on this issue. Holding to supernatural creation is more important than holding to a young earth or literal 24 hour days. There are many exegetical reasons offered against the young earth view, and some of them, in my mind, are convincing. But as Stephen Meyer points out in the panel's discussion, the Church has to be careful not to get sidetracked into an intramural debate over the days of Creation instead of confronting head-on the new atheists denials of the existence of God and the Bible's supernatural claims.
I expect my readers hold a variety of positions on this issue as well, so drop a comment and we can discuss this further. Just how important is the age of the earth when it comes to defending the Bible's claims that God created the world?
~ Originally posted at Fundamentally Reformed